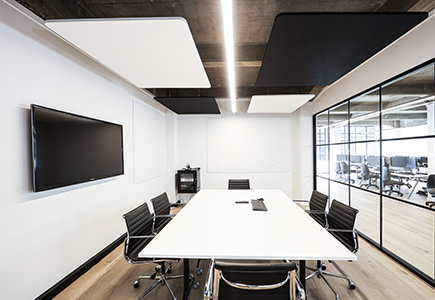 Not long after moving into a new building, Telnet realised they had an issue with noise in their workspace.  In the enclosed space of the Boardroom the echo was awful.  A combination of glass, windows and walls meant that noise reverberated off all the hard surfaces. Following our recommendation, they installed Boyd Acoustic Floating Ceiling Panels and Wall Panels, and the results were immediate. Telnet can now use the Boardroom to have important meetings and productive conversations, without the noisy echo.
Read More
In a rapidly evolving business Fletcher Building's use of their head office space has also changed to become more open and collaborative. The brief from our customer was to create a space that was still flexible and open but allowed for some privacy and a reduction in reverberated noise. Together we created printed Acoustic Panels in colours that match with their brands. Hanging these from the ceiling allows Fletchers to easily adjust the space if they need to, the space can continue to evolve with the team. We are now working together on reducing noise in their next open plan area.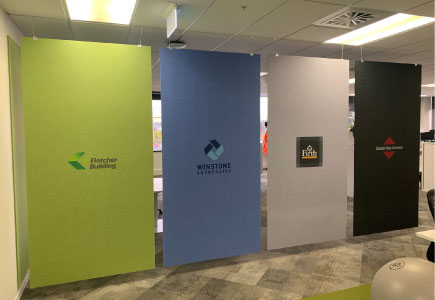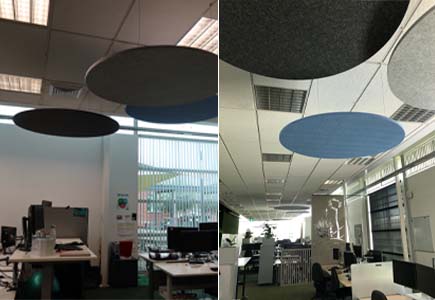 Dairy NZ had an open plan office along with lots of hard surfaces and this was producing noise reverberation and creating distractions. Working with our customer we recommended our Floating Ceiling Panels to help manage the noise and create a design feature. The choice of round Floating Ceiling Panels softens the space and lowers the ceiling height. Installing the panels at different heights and using a selection of colours creates interest. The end result is spaces that look quite different and are more comfortable to work in.
Waterfront Property Management Services
Our friends at Waterfront Property management Services were approached by a government department to find a solution around oversized Whiteboards in their planning spaces. We developed a solution with large butt-joined panels in our Ultra-Thin frame resulting in an expansive writing space in our Clarity Superior Porcelain.
George at Waterfront did an amazing job assembling and installing these Whiteboards with a short window to execute the project on time and on budget.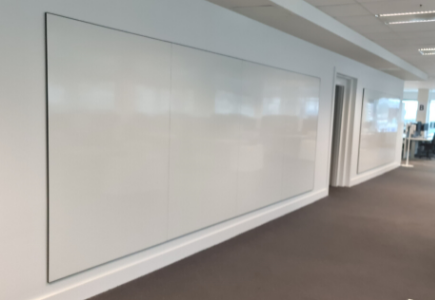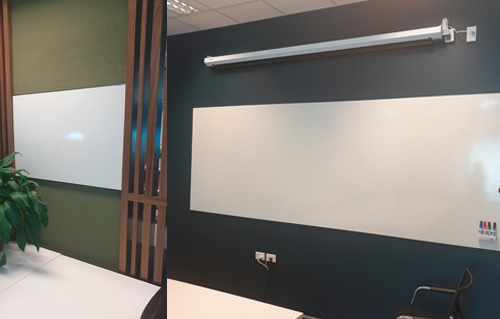 We were thrilled to work alongside the talented team at Dalman Architects and Interior Designers on the refurbishment of the Engeo Christchurch office. This involved the building of several contemporary, collaborative meeting spaces.
After consultation, we decided the best solution was our most elegant whiteboard design – our famous Ultra-Thin Whiteboard in a tasteful black frame. We are proud of the end result! The sleek look of the frames fit seamlessly with the Dalman design aesthetic, and our Clarity Superior Porcelain Surface will withstand a lifetime of use.
Bunnings head office wanted to create a contemporary space that was also functional for brainstorming and planning during meetings. We are proud of what we delivered! We designed and manufactured an angle cut porcelain whiteboard that fits seamlessly into the décor of their meeting room and has a Forever Surface guarantee for continued excellent performance.
We had excellent feedback from the Bunnings team, and we are so pleased that they love their new space!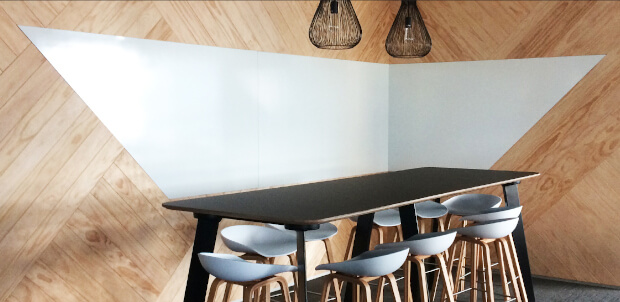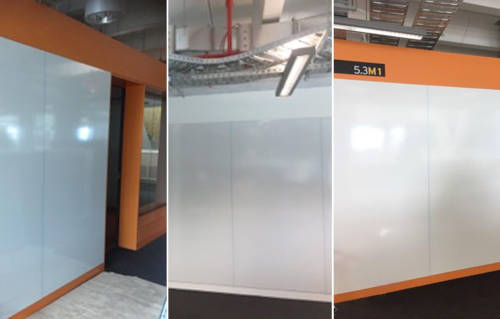 ASB Bank are industry leaders in collaborative work and problem solving in the finance space. We were engaged to create a space that reflects that, and to manufacture full whiteboard walls to allow their team maximum space to work with. We engineered these boards for several new highly effective meeting and planning spaces throughout the ASB building.
We used world-class porcelain surfaces with slim, virtually unnoticeable joins between the panels. These collaboration areas are now more effective and productive than ever – and they look good!
Boyd were asked to collaborate in the large-scale renovation of the NZ Police facility to better suit the working and planning needs of our national force. We provided exceptional quality Ultra-Thin framed porcelain whiteboards, full wall whiteboards and the installation of acoustic panelling to reduce office noise and allow the force to work with less distractions.
We collaborated closely with the construction project managers to ensure the process went smoothly and to meticulous specifications. The final result is a network of highly functional and productive meeting rooms. Our police force now have several spaces where they can meet, plan and achieve great results.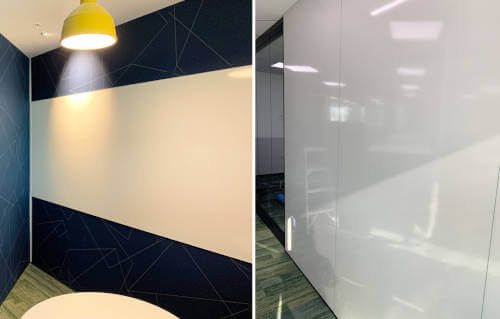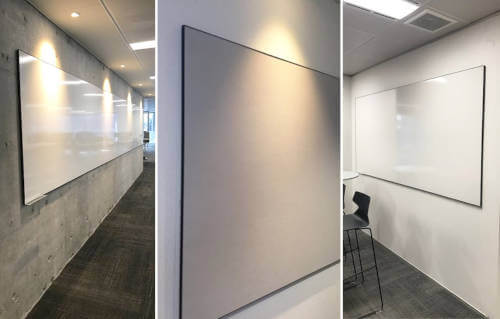 Auckland Council underwent a major refurbishment of their Albert Street head office. We were proud to be selected to manage this large and complex project! The project took 12 months and included our Ultra-Thin Framed Porcelain Whiteboards, which we selected for their sleek, contemporary look that matches the renovations, along with our sleek profile Framed Pinboards.
Through close contact with construction and facility managers, we were able to deliver high quality results in accordance with tight deadlines and specifications. Auckland Council now have excellent, highly functional collaboration areas on all floors of their building.
The Icehouse are a high-performing investment organisation committed to helping shape a thriving New Zealand economy by boosting innovative Kiwi businesses. They enable success through knowledge, connection and collaboration, and needed meeting spaces that better facilitate that working ethos.
We were tasked with providing the tools to better enable collaboration and idea flow. Our sleek frameless whiteboards and glassboards were installed along with high-quality acoustic panelling for noise reduction. The end results look great and perform excellently. We were pleased that The Icehouse recognises the amazing return on investment a business can achieve when equipped with the right planning tools!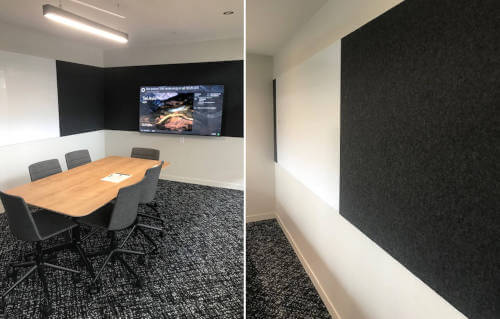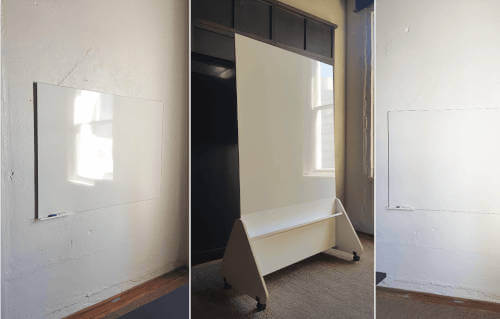 Bancorp is a leading investment bank specialising in corporate finance, treasury advisory and private banking. They recently relocated to the stunning Buckland and Masonic Buildings in Britomart, Auckland. This late 1800's property has been beautifully restored to create office spaces with a rich history and unique character.
Boyd consulted on recommending and providing writing surfaces that suited these unique workspaces. We installed porcelain whiteboard that will withstand daily use while erasing as good as new every time. We framed these with Ultrathin frames that fit seamlessly with the décor of these meeting space, and added bespoke pen trays so suit the particular needs of Bancorp. We also delivered and assembled our mobile Summit board to be used in open plan areas and easily moved between meeting rooms.
Our customer set us a challenging brief on this job! To finish off their office build and re-fit they needed acoustic baffles to reduce noise and help soften an exposed industrial style ceiling. Our Ceiling Baffles were the right choice and we custom manufactured the baffle shape to their brief. The challenging part was the install around an already very busy ceiling but our team was up to the task! We are super proud of the end result and the impact the Ceiling Baffles have had on the look of the space. They are a striking finishing touch.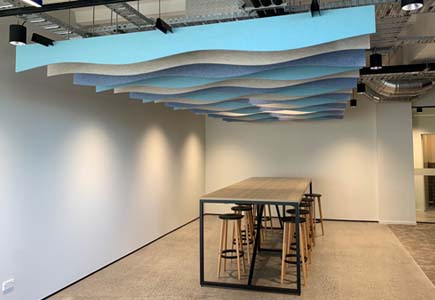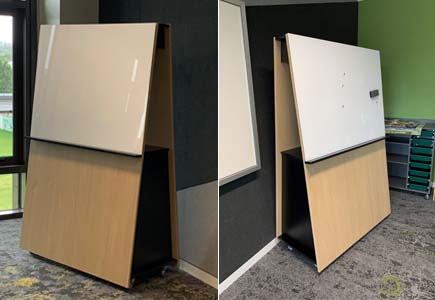 Saint Kentigern have completed an amazing extension to their facilities in Remuera. They have created a very high quality building that will be an amazing space for learning. They needed presentation tools that matched the design and quality of the rest of the build and Boyd were approached to create a mobile Glassboard. Based on our customers vision we created the Keynote Mobile Glassboard that also has acoustic panelling on some units and others with music lines. We assembled and delivered the final units ready for the new school year.
Our good friends at Product Renders were the first to spot our new Wave acoustic panels. They were looking to reduce sound in and around a room in a style that fitted in with the rest of their renovation. They chose dark grey Wave panels and we sorted the installation. Michael was very happy with the end result and we were really pleased we could improve their working environment.