Boyd manufactures magnetic Frameless WhiteBoards that sit flat against the wall offering a clean-edge look.
These boards have all of the same properties of our standard Porcelain Whiteboards which erase cleanly every time!
Standard or Projection Surface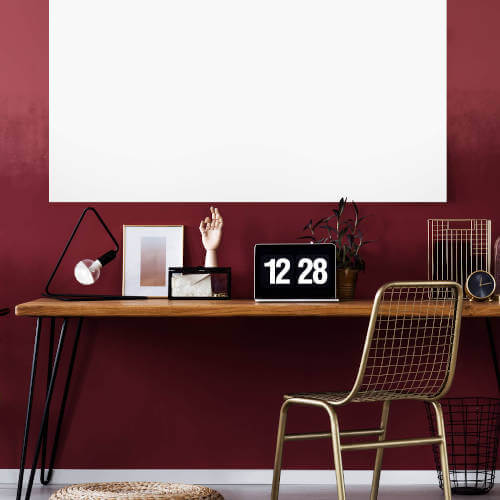 Custom Options
We can create a full wall of Whiteboards from floor to ceiling, which is a great look while maximizing your writing surface. Create something totally custom and unique with our laser etching process. Take any custom graphics, lines or words and get them permanently etched onto the boards surface so they won't smudge or disappear when you need to start again. Speak with our Sales team to see what we can create for you.
Materials
Our Whiteboard surfaces are produced by means of an ISO 9001 compliant, continuous coil-coating process, consisting of a steel core of light gauge covered on both sides with thin enamel coatings.
The ceramic finish is fused to the steel at a temperature in the range of 700-900 degrees Celcius.
Mounting
Directly adhered to your walls using industrial strength glue.
These boards need to be installed professionally.
Sizing Options
Frameless Porcelain WhiteBoards are custom made to the size you require in your space and are available in either Clarity Porcelain or Projection Porcelain surface.
Environmental
Our WhiteBoard surfaces are enamel fused to cold-rolled enamelling-grade steel. In all coatings, the total amount of heavy metals cadmium, mercury, hexavalent chromium and lead is less than 0.1%. No Volatile Organic Compounds (VOCs) and is 99% recyclable. The WhiteBoard surface has a Fire rating of A1.
Download the resource sheet