Designer Series EDGE WhiteBoards
The EDGE Whiteboard features a modern frameless edge with the choice of Black or White PVC edge to match any space.
These boards offer huge opportunity in shape and size, so think outside the rectangle and talk to us about what is possible. They have a Porcelain magnetic surface, come with concealed wall fixings to ensure a contemporary look and carry a Forever Surface Guarantee.
Black or White PVC Edging
Customisable and Flexible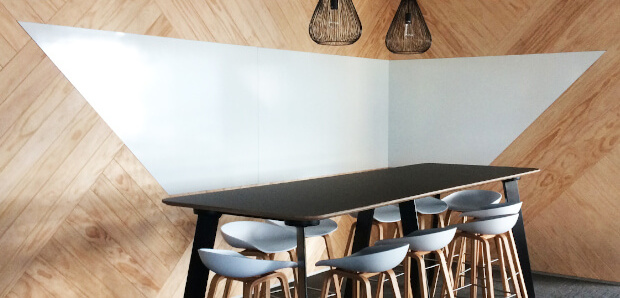 Custom Options
We can create your EDGE Whiteboard to suit you, from 1185mm wide to most custom lengths and many shapes within 10 working days.
Materials
Our Whiteboard surfaces consist of a steel core covered on both sides withthin enamel coatings. The ceramic finish is fused to the steel at a very high temperature allowing us to offer a lifetime surface guarantee.
Mounting
EDGE whiteboards can be installed using the concealed wall fixings included in the box or adhered to the wall. Boyd Visuals can manage installation if required.
Sizing Options
EDGE Whiteboards can be custom made to the size you require. They are available with either Black or White 1mm PVC edging.
Download resource sheet