Epson ELP-SP02 Active Speakers
The Audio Solution for Modern Classrooms
The Epson ELP-SP02 active speakers are a great addition to the modern classroom.
Boasting 30W of crisp, clear sound, the ELP-SP02 active speakers enable every student to clearly hear the lesson, no matter where they are sitting in the room.
Easily mounted to the wall, this powerful pair is the perfect partner the ELP-CB01 Cable Management and Projector Control box.
FEATURES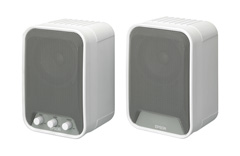 ACTIVE SPEAKER (inc Amplifier)
Output Power
Frequency Response
Driver
Impedance
2 x 15 Watt at 10% THD
80Hz ~ 20kHz
Tweeter / Woofer
8 ohm
PASSIVE SPEAKER
Output Power
Frequency Response
Driver
Input
15 Watt rms
80Hz ~ 20kHz
WooferTweeter / Woofer
RCA pin jack from active speaker
POWER
Power Supply Voltage
Power Frequency
Power Consumption (standby mode)
100V – 240V AC/DC
50/60Hz
Less than 0.7W
To contact us about this product please click here