Cable Management & Connection Box
The Simple Cable Management and Projector Control Solution
The Epson ELP-CB01 is the simple solution to cable management, especially when connecting multiple devices.
Long distances between the installed projector and an input device are no longer an issue thanks to the ELP-CB01's powered configuration.
With the ELP-CB01, projector controls are always within reach, making it perfect for a busy modern classroom where a remote control can go missing.
Providing the ability to extend cable length as well as control the installed Epson projector, the ELP-CB01 is a versatile addition to installations in modern classrooms.
FEATURES
Full Range of Connectivity Including HDMI for easy connection to a wide variety of sources

Easy to Control Total control of your Epson projector is always within reach. Power on/off, AV mute, volume, and source change can all be operated from on convenient location

Simple Installation Installs in minutes thanks to Epson's unique design

Simplifies Cable Extensions Long distance connections between the projector and a source are simplified, with the ELP-CB01 functioning as a powered hub
Simple Cable Management and Projector Control
The Epson ELP-CB01 Connection and Control Box, is a solution that offers extensive control of multimedia sources connected to Epson's wall-mounted short-throw and ultra-short-throw classroom projectors. The ELP-CB01 gives teachers one convenient place to connect and manage audio and video sources such as computers, DVD players, iPods, and more.

The ELP-CB01 is a wall-mountable control box which features large, easy to use control buttons and a cable cover that creates a clean, organized look to help avoid cable chaos. The control box is designed to mount on the wall next to the projected image, making it easily accessible to educators and enabling them to change sources or adjust volume with the press of a button, eliminating the need for a projector remote control.
The various input/output connections available include: HDMI, two VGA (computer 1 and 2) connectors with corresponding Audio (inputs/outputs), S-Video with Audio (inputs/outputs), AUX Audio (for use with devices such as an iPod), USB Type A, USB Type B, and Record Out. The ELP-CB01 also allows the selection of audio mute and volume adjustment for the optional Epson ELP-SP02 speakers. The ELP-CB01 also includes a handy attachment that allows users to store their iPod or Epson Interactive Pen on the side of the box.
By offering a central point for all source cables to connect, teachers now have the flexibility to integrate a wide range of multimedia devices into their teaching that might previously have been much more expensive to manage with a ceiling-mounted projector.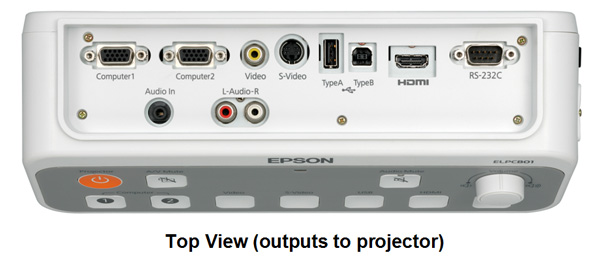 To contact us about this product please click here